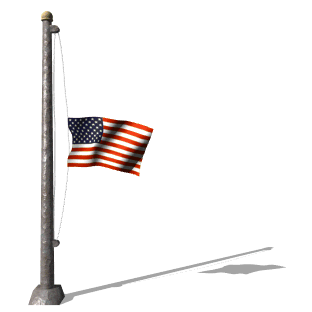 Sad News

In Defense Of The Flag (Sewn For History Class) July 3, 2009 Listen to the Story Morning Edition [2 min 52 sec] * Add to Playlist * Download * Transcript Bob Heft holds his original 50-star flag. Enlarge Bob Heft holds his original 50-star flag. Bob Heft holds his original 50-star flag. Bob Heft holds the original 50-star flag. text size A A A July 3, 2009 For an American history class project during his junior year of high school, Bob Heft, now 67, created a 50-star flag. The only problem was there were only 48 states at the time. But Heft had a hunch that two more states would be added soon. A hunch that turned out to be right. At the time, there was talk of statehood for Alaska; Bob guessed that Hawaii would be next for political balance — one Democratic state for one Republican. Hawaii was added as the 50th state 50 years ago this summer. Heft created the 50-star flag by cutting up a 48-star flag his parents had received as a wedding present. "I'd watch my mom sew, but I had never sewn," says Heft, who was fascinated with Betsy Ross. "And since making the flag of our country, I've never sewn again." But Heft's teacher was less than impressed. "Why you got too many stars? You don't even know how many states we have," Heft remembers his teacher saying as he turned in the flag. Heft got a B- on his project. "I was upset," Heft says. "The teacher said, 'If you don't like the grade, get it accepted in Washington then come back and see me. I might consider changing the grade.' " Two years later, Heft had written 21 letters to the White House and called 18 times. His perseverance paid off when he received a call from the late President Eisenhower. Eisenhower invited Heft to come to Washington, D.C., for a ceremony for the adoption of Heft's flag. His design was made official on July 4, 1960. Heft's teacher honored his promise. "I guess if it is good enough for Washington, it's good enough for me," Heft remembers his teacher saying. "I hereby change the grade to an A." Produced for Morning Edition by Michael Garofalo and Nadia Reiman.

Robert G. Heft, who designed America's 50-star flag as a high school project in 1958 and lived in Thomas Township upon his retirement from teaching, died Saturday.

Heft, whose design overtook the 48-star banner as the longest-serving flag in U.S. history on July 4, 2007, was 67.

Robert G. (Bob) Heft (born in Saginaw, Michigan in 1942) is a designer of the 50 star flag, and one of the proposed designs for a 51 star flag for the United Sates of America. He spent his childhood in Lancaster, Ohio. Where he created the flag as a school project.

In 1958 at age 17, Heft was a shy student at Lancaster High School near Columbus, Ohio, where he lived with his grandparents.

"At that time, the Republican administration was talking about taking Alaska in (as a state)," Heft said. "I thought, 'Why would a sitting Republican Senate want to take in a state like Alaska that's heavily Democratic with an election coming up?"

For a school project, Heft said, he played a hunch that if the U.S. took in a 49th Democratic state, a 50th Republican state -- probably Hawaii -- would be added, too.

With several swift strokes of his mother's seam ripper, Heft turned his grandparents' 48-star family heirloom flag into a symbol of his country's future.

"I took the flag that was their wedding present and cut it up," Heft confessed.

The stripes stayed, but Heft taped in a new piece of blue broadcloth and ironed on 50 stars arranged in rows of five and six that he'd cut out of applique material.

"The teacher looked at my flag and said, 'What's this thing on my desk?" Less than impressed with his political speculation, the teacher gave him a B-.

The shy Heft came "unglued," he said, prompting his teacher's challenge.

"If you don't like the grade, get it approved in Washington and I might change it," he was told.

Two weeks later, Heft folded his flag into a box and peddled across town to knock on the door of U.S. Rep. Walter H. Moeller, D-Ohio. Heft gave the flag

to the congressman and urged him to take it to Washington.

The student mailed every news article he saw to Moeller to remind him of Heft's desire to have the flag design adopted.

"I've often thought about if the teacher had given me a better grade on that flag, then I'd probably have taken it home and put it in the closet," said Heft.

As Heft predicted, both Alaska and Hawaii attained statehood, giving the country a total of 50 states.

After graduating in 1960, Heft got a call one day at the factory where he worked as a draftsman. Then-President Eisenhower notified Heft his flag was being adopted as the country's official banner and invited him to stay at the White House for the ceremony.

Shortly afterward, television crews gathered while Heft returned to his high school, asking his teacher to follow through on changing his grade.

Now 66, Heft is retired after 32 years of teaching high school and 20 years as mayor of Napoleon, Ohio. As creator of the country's longest-waving flag -- it's been in use for 48 years -- Heft has rubbed elbows with celebrities and spoken to audiences across the country.